PORTAGE PARK — A Six Corners yoga studio will soon take over an entire floor of a historical arts building.
Wildlight Yoga studio, 4041 N. Milwaukee Ave. No. 302, is expanding to take up the full third floor of the Portage Lofts building to offer more wellness and spiritual services to the community, owner Kelli Wefenstette said.
A meditation studio is being built, and the new space will allow Wildlight to offer services such as massages, Thai yoga, acupuncture, chiropractic therapy, nutrition services and spiritual direction or counseling from staff, Wefenstette said.
Wildlight will also expand its retail and reception side. It sells handmade items from places Wefenstette has traveled to, such as Mexico and Indonesia.
Wefenstette is thinking of adding a salt room, a sauna or other types of holistic options that complement the yogic lifestyle, she said.
"People come in for yoga classes, but once they start on their yoga journey, there are so many more" wellness avenues, Wefenstette said. "I would love for this to be a place where people can access the support they need and the direction they need."
The expansion, planned to wrap by the end of the year, will give Wildlight about 5,000 square feet of space, Wefenstette said. The yoga studio, which is about 1,200 square feet, will remain unchanged.
The wellness side of the business should be fully operational by March, Wefenstette said.
Wildlight will continue to offer hybrid classes, retreats and workshops in its studio space, but it will have more room for those in the new year, Wefenstette said.
The Portage Lofts building houses the Chicago Ballet Center, the Six Corners Association, Wildlight Yoga, the National Veterans Art Museum and the Filament Theater.
The building's third floor formerly housed the Six Corners Association office, administrative offices and storage of the National Veterans Art Museum, a coworking space, a communal kitchen and the yoga studio. Construction is underway to open up and paint the space for Wildlight's uses, building owner Marc Sussman said.
The expansion opportunity came as the administrative offices of the National Veterans Art Museum were no longer being used, Sussman said. After speaking with Wefenstette and the Six Corners Association, they decided the space was "a perfect fit" for Wildlight's expansion, he said.
"It's a soft use — it's not a store, [but] it's meeting people where they are and making their lives better," Sussman said. "That's what's happening up and down the building. There's the dance school, the art gallery and Filament Theater … people come and explore."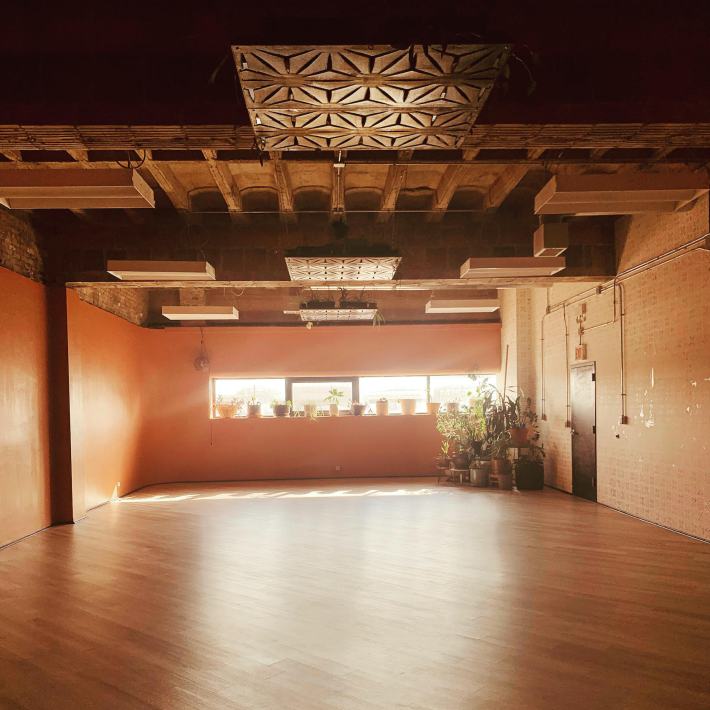 Amie Zander, president of the Six Corners Association, said her group is still able to use communal space in the building and is working with Wefenstette to see if there will be room for them on the third floor once the space is finalized, she said.
If not, the association plans to find a new office, though the temporary displacement has not affected their operations, Zander said.
Wildlight Yoga studio opened in 2018 at 4140 N. Milwaukee Ave. but moved when new owners took over that building. The studio opened in the loft space in September 2021, offering in-person and online classes.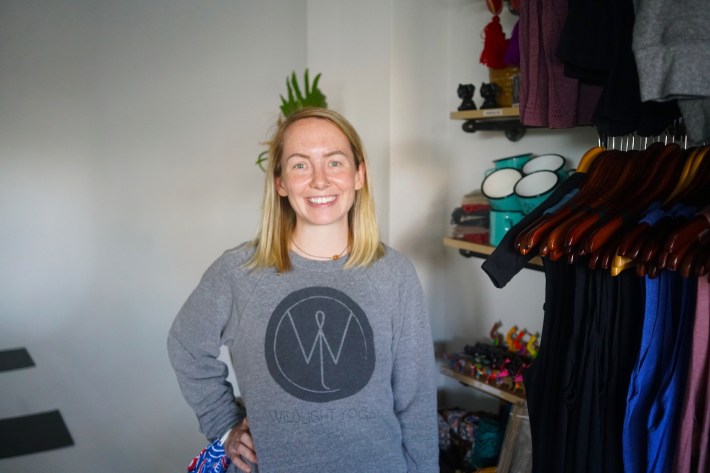 Wefenstette, who used to be the executive director of the Six Corners Association until 2014, said the expansion is personal because of how long she's spent working in the loft building with the association and other local businesses.
It's been home for so long — and with her business growth, she could be there for more than a decade as part of Widlight's new lease, she said.
"This may be a very aspirational thing to say, but for me, the decision to move forward in this capacity has been so easy," Wefenstette said. "This really hit home for my business. I'm extremely grateful for the opportunity to continue my investment at Six Corners."
Listen to "It's All Good: A Block Club Chicago Podcast":