CASPER, Wyo. — Push Yoga is the name of a new studio that has planted its roots inside the recently renovated — and slightly hard to find — basement space inside of the Homesteader Building, 111 S. Durbin St. in downtown Casper.
"That has been our biggest challenge," said Emily Bower, who also owns and operates Push Massage Therapy in the same basement. "People will be upstairs on the street or even in the lobby and they're like, 'I can't find you!' The biggest thing is, we're in the Hilltop Bank building at First Street and Durbin and we're in the basement. There are stairs and an elevator that can get you into the space."
Once people can find Push Yoga's studio, they'll discover not only yoga and meditation classes but also space that's being used to host markets, art galleries and events like live paintings and musical performances. Bower, a licensed massage therapist with almost 20 years' experience, moved Push into the new space after a friend with Brick & Bond helped her find it, opening the massage side of the business in February.
"I was just looking to get out of where I was," Bower said. "It was a very small office space that I really couldn't grow into and it didn't have water readily available for what we need for massage."
The larger space in the basement of the Homesteader Building allowed Bower to add some other massage therapists to the Push Massage team: ​Haylee Hickman and ​Chelsey Velasquez. The space was big enough to accommodate the three massage rooms and an infrared sauna, with another large room to spare. That extra room is what opened as Push Yoga Studio this October.
Bower worked with yoga instructor Samantha Martinez to get the yoga studio rolling. Martinez, who also teaches yoga at Lifetime Health & Fitness, Wyoming Yoga & Wellness and I-Reach, said Push Yoga's new studio is helping foster a closer sense of community in Casper.
"I see Casper becoming more of a family and that's what I'm looking for in this town," Martinez said in a December interview. "I'm just looking for people who want to spend time with each other, to get a little weird, to get a little fun and to dance. Push is a perfect place for that. Emily really wants that. She comes from a big family of people that are artists, that are big thinkers, that are spiritual leaders. They're all doing something."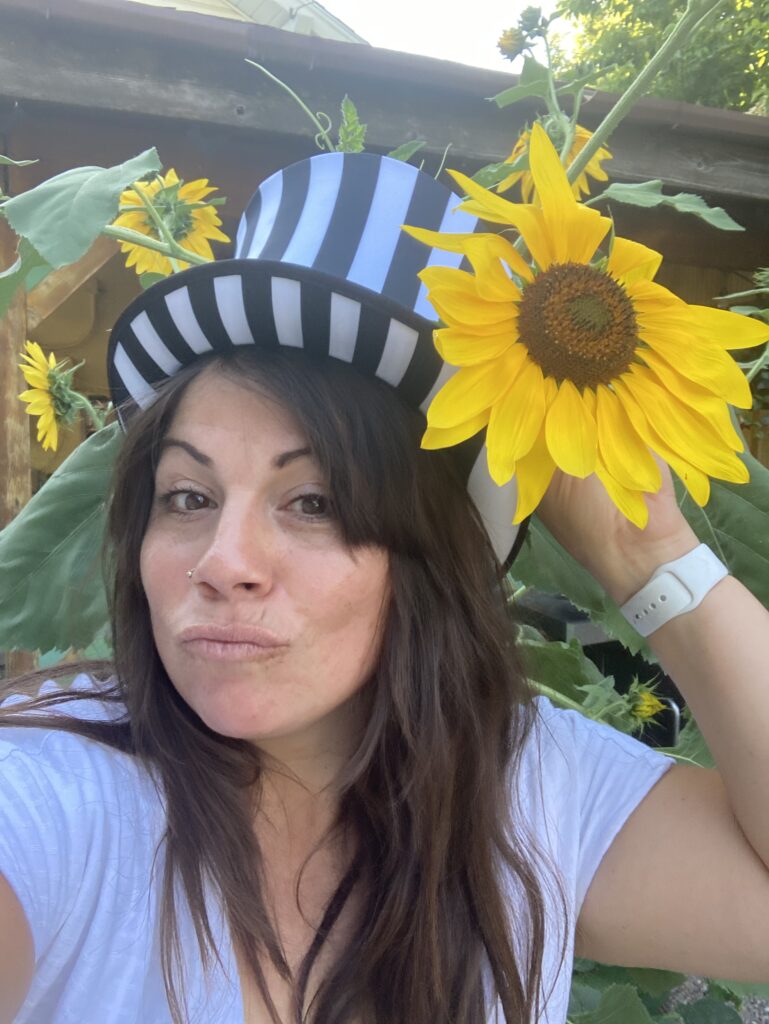 Much of the art on the walls of the Push Massage side of the underground space was created by Bower's sister Betsy. The Push Yoga side is currently featuring the work of another artist who was among the first to help bring life into the studio after renovations were completed.
"Dan Marshall, he's our artist up on the walls," Emily said. "He is a good friend of mine who lives in Denver right now. He was a very good friend of Jack Canfield, so he used to guest spot at The Ink Spot. He's a tattoo artist and he started doing watercolor as an outlet to kind of focus on a different medium than tattooing and he just became very, very good at it."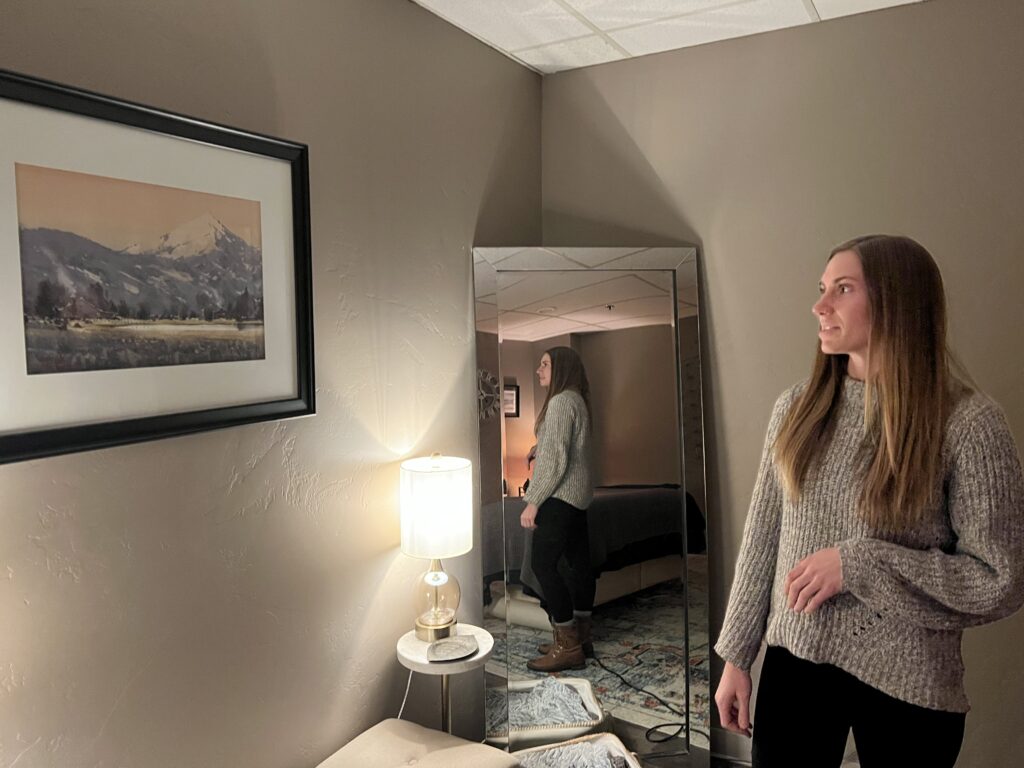 In July, Marshall conducted a live painting demonstration inside of what would become the Push Yoga Studio space. As he talked about plein air watercolor techniques, Marshall demonstrated his mastery of the medium, whipping together a farmhouse scene in the span of roughly 30 minutes. There were also musicians at the live painting event, which coincided with July's downtown Casper Art Walk.
Marshall's work will remain on the walls into early 2023, with Bower planning to then rotate whose work is on display in the Push Yoga gallery. Other things have also been happening, with Bower open to versatile use of the underground studio.
"I'm just kind of like letting the space figure it out for itself," she said. "Like, what I have enjoyed is the markets that we've done."
The studio space has hosted small business markets on several Saturdays this fall.
"We'll continue them next year," Bower added. "I'm not sure what that looks like as far as the schedule goes — if it will be every month or every other month — but I want to let people know we're down here and inviting other businesses to participate to get the word out about their businesses. It's been fun.
"It's also a rental space. I've had a lot of different people from the markets ask me if the space is available for rent for workshops and classes and we've left some afternoons and evenings open just for that type of thing."
In terms of yoga, Push Yoga's first set of instructors includes Martinez, Hickman, Allyn Bennion and Aubrey Ducharme-Brown. Each instructor brings her own sense of style and purpose to the ancient practice.
In Martinez's case, she has come to see creating space for community, connection and congregation as essential.
"I just really realized I can't live my life without a community," she explained. "I need a community. I need to do this with other people. … It was what the yoga was guiding me to. It wasn't like, 'Oh, this is what I want.' It was like, 'You have to do this.'"
As Martinez came to this realization, it even influenced the style of yoga she teaches.
"I first started teaching very vinyasa-flow style, which is wonderful and great and I love it, but it wasn't what I wanted for me," she said. "But once I started teaching in my way — exactly the way I felt like the yoga itself was asking me to do — everything started to click into place."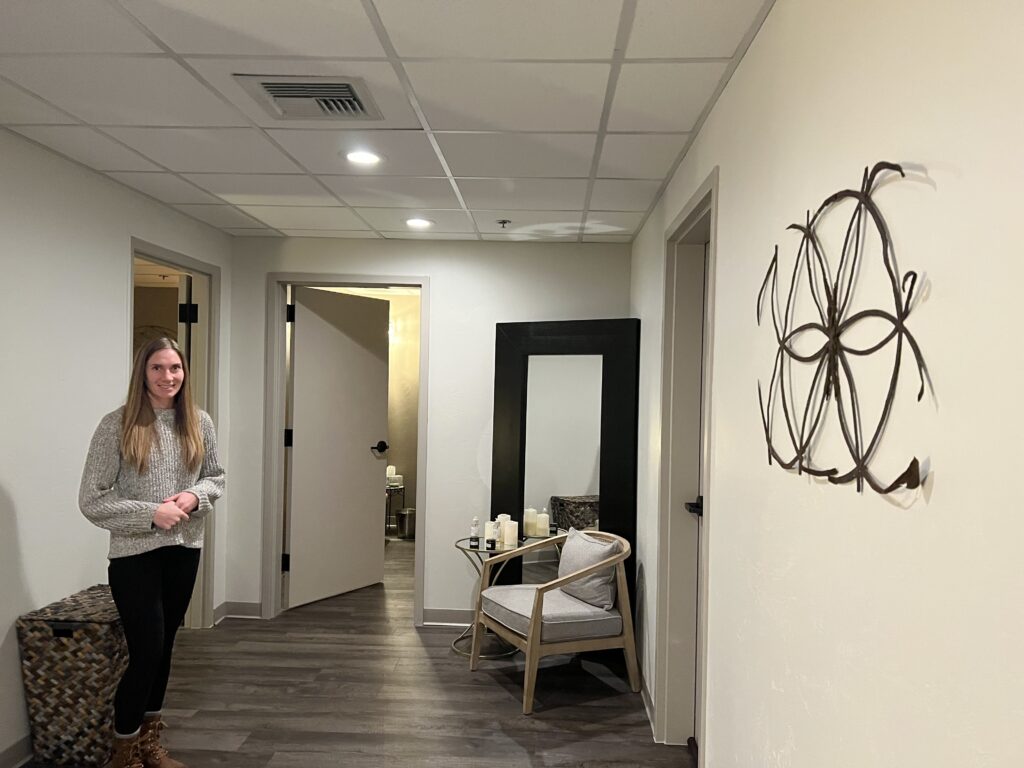 As she grew into her own way of teaching, Martinez found people would connect not only with her style but also with the other people in her classes.
"I realized that our community was really hungry for that — to be seen, to see each other and not just walk past each other," Martinez said. "[Casper is] cold. It's blistery. It's windy. I mean, Casper is a beautiful place with beautiful people, but sometimes we don't realize that because we're all rushing to get inside somewhere, to get out of the wind, to get out of the cold, and we forget to congregate and speak to one another and to really dive deep."
Martinez has lived in Casper for 18 years and said she thinks the community is embracing things like yoga more than at any point in her time here.
"Casper is [made up of] hard workers and people that live in the elements," she said. "They live in a place that is not an easy place to live. … Everybody, we're trying to figure out the basics right now: food, shelter, getting our kids to good places in school and stuff like that. Figuring out the yoga community isn't always the first thing that people think about.
"But I think we're coming into a time now where Casper is with the rest of the world. The internet, I really think that has a lot to do with linking us up. We get to see different cultures and what's happening out there in the world."
The total solar eclipse in 2017, which drew thousands of people to Casper, marked an important point in the community's journey, Martinez added.
"I feel like that was a big shift in Casper's consciousness and it was a big shift in my consciousness," she said. "The energy was so big. It was the first time I felt the confidence of Casper had blossomed.
"The eclipse — this thing that, of course, happens all the time — but to happen here; it was in full totality and it brought all of these people from all over the world. … I think it really permeated that feeling of, 'We are beautiful, we are good enough. People should live here for their whole life, not just for a boom and bust experience.'"
The eclipse also marked the time David Street Station opened, offering new space for community gatherings, markets and events — things Martinez remembers from her time growing up in California.
"I come from a place where that was how life was," she said. "We had market nights and stuff like that all the time. Casper didn't have that. Now, there are vendors, markets all the time. You can feel that small business type of community starting to flourish a little bit more. [You can see people start to] wake up, be self-made, have the confidence to step out and say, 'Oh, this is what I have.'
"That's the same with yoga studios and people doing community things. Like Yoga on the Labyrinth — it used to be smaller and it has grown tremendously."
Martinez has seen all types of people show up in yoga classes, including Logan Wilson, a Casper native who plays football in the NFL. Wilson showed up with a group of people to one of the Saturday classes she teaches at Lifetime.
"I don't know anything about football but it was all these giant dudes," Martinez said. "I was making them do a really difficult kriya and breathe. They're all very fit and just extremely well taken care of people and I was so scared because I had no idea who they were. Seeing people, sometimes you're like, 'Man, how is this going to come across? Are they going to accept me?'
"And afterwards they all came up to me and they shook my hand and they patted me on the back and they were like, 'Thank you.' That was so amazing. They were so appreciative of it and I just didn't expect that. … Everybody is welcome in my class. I want to see all walks of life."
There is a different energy depending on where yoga is being taught, Martinez explained while sitting inside Push Yoga's new space.
"Everywhere is different," she said. "Here, it's really quiet to me. There's a quietness in here that is very different than like Lifetime, which is very loud. When I speak in that room, it's like, 'Whoa!' which is cool. Actually, it's kind of fun for me to be loud, but I really also like the feeling of the silence, of that kind of blanketed feeling. So I do feel like this place has a calmer vibe to it.
"I love Push Yoga's space. I think that it is a place that can bring in a lot of interesting circles. I really want to get into some fun, weird, just drumming and dancing and yoga kind of stuff. I feel like this space would be perfect for that because it's kind of something that we want to do in secrecy — or make it feel that way, in a sense."
Wherever the yoga is happening, Martinez will be trying to nurture that sense of community that is at the heart of her teaching.
"Casper is the mountain in us and is the eclipse in us and is David Street Station in us — all of that," she said. "That is a reflection of the love of our own self — the love for our self reflected out. We talk about it in yoga all the time. If you can heal yourself, you can heal the world.
"Think about the little tiny bits of healing that you're doing here or that anybody's doing because of COVID and all the stuff that has happened recently and how much it made us really have to be introspective and look at ourselves and say, 'What matters to me?' Well, what matters to me is my family, my friends, my community. I love them. I want to take care of them better. I want to be a better of-service-person to this place because it matters to me."
Bower was intentional in selecting space downtown and, like Martinez, thought the solar eclipse was an important moment for the community.
"We're at an exciting time right now in Casper," she added. "We've had such an influx of out-of-staters that I think can actually work to our benefit — more of the outside world can come in and bring the positive aspects of that to our community.
"I think the downtown area is only going to keep getting more and more life-livened with the different people wanting to have community and connection. Having this yoga space is how we're trying to be part of that."
Bar-W Construction did construction on the Push Massage side of the newly renovated basement space, while Copper Leaf Custom Builders did construction on the Push Yoga side, Bower noted. Rocky Mountain Electric did all of the electrical work.
More information about the new studio, including a January 2023 schedule, is available from Push Yoga's website.