Face yoga: Include these 5 asanas in your self-care routine
Dec 02, 2022, 12:45 pm
2 min read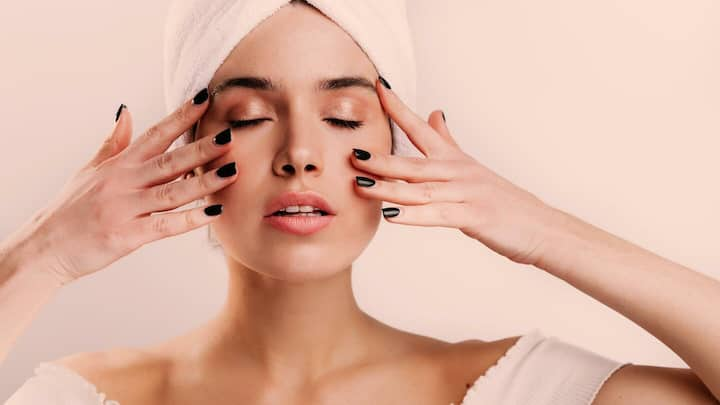 Here's the perfect alternative to expensive skincare products, surgeries, and needles.

Yoga is among the very rare fitness and health activities that are tailor-made to suit each body part.

And today, we are exploring how it looks on the "face" of it.

Well, we are talking about face yoga asanas, that can help you improve your skin quality, glow, toning, and appeal.
Open your mouth and position your upper lip over your teeth to smile. Lift up the cheek muscles.

Now place your index fingers on their top and ensure that the fingers are directly under your eyes.

Release cheek muscles and then smile again to bring the muscles up.

Repeat this facial yoga exercise at least 10 times.
Open your mouth as though you're making an "aah" sound.

Seal your lips tightly inward and extend your lower jaw forward.

With the help of your lower jaw and mouth closed, scoop up pulling your chin about one inch upward.

Now tilt your head backward and pull your chin one inch downward.

Repeat this exercise at least 10 times.
Begin by pressing your fingertips on your temples.

Close your jaw, clench your teeth, and tilt your chin up.

Concentrating on your temples, feel as though you are moving your ears backward.

Maintain this pose for 10 seconds and once that's done, clench your teeth down and hold for another 10 seconds.

Relax and repeat this yoga asana three times.
Place three fingertips under each eyebrow and press.

Keep your eyes open and smile as you try to lower your eyebrows against your fingertips.

Once done, hold. Now, gently close your eyes and roll your eyeballs toward the top direction.

Keeping that smile on, hold this pose for 20 seconds.

Release and repeat this entire set at least three times.
Smile without showing off your teeth.

Stretch your smile toward the corners of your mouth so that you feel a burn-like sensation there.

Press your index fingers into the corners of your mouth. Once done, slide the fingers up toward your cheekbones.

When you reach the top of your cheekbones, hold for 20 seconds and feel your muscles tightening.