Self-care will forever be our favourite hobby but we appreciate that recharging and putting yourself first looks different for everyone. Each week, we'll be asking the celeb lot to share their ideal self-care Sunday routines, the hard-working beauty products they recommend to their friends and which TV show they're currently binging…
This week it's all about beauty influencer Danielle Gilbert, otherwise known as Dani G Makeup. The 24-year-old has suffered from alopecia since she was one-years-old and uses her platform to raise awareness, as well as share brilliant make-up tips and tutorials.
Dani recently teamed up with Brow HQ to launch her veryown eyebrow transferswhich took "over two years in the making" and are the ultimate fluffy and snatched brow – a revolution for anyone with alopecia or wanting to add fullness to sparse eyebrows. We love to see it. 👏
Dani G Makeup talks exclusively to heat about her inspiration behind the launch, make-up must-haves and really great advice…
On self-care
Of course, self-care routines look different for everyone, so how does Dani spend her ultimate day off?
"Self-care for me is doing things I love and pampering myself. If I had a self-care day, it would involve me creating a nice make-up look, because doing my make-up is a form of therapy and makes me feel really confident. I'll put on a full face of make-up and get really creative with it. Then at the end of the day, I like to do a nice little face mask to make sure my skin feels really calm and looked after."
On alopecia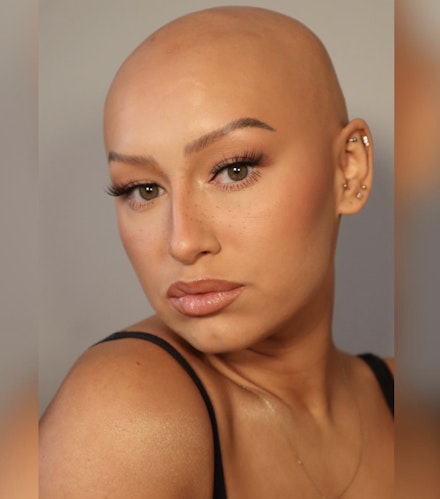 "It started when I was around one and a half years old, my mum found a small, around the size of a twenty-pence coin patch on the top of my head. The back of my hairline was quite high as well and at first, she thought my ponytail might have been too tight, but as soon as she noticed the patches, that's when we went to the doctors. I was then diagnosed with alopecia areata. At first, the doctors said it would go away, but obviously, it didn't and it got worse and worse.
"Over the years my hair continued to fall out of my head and eventually at 12 years old I lost my eyebrows and then my eyelashes followed as well. Now I don't have any hair at all on my body and I've been like that since I was around 14.
"It happened around the key time in your teens when you start wearing make-up and things like that. I felt like I started to lose a bit of my identity and I feel like make-up helped my journey along the way. That's how my love of make-up began, I had to learn how to do my make-up without eyelashes or eyebrows. I started my make-up Instagram at around 17 and it all started from there. I would be really open about my alopecia and I would post pictures without a wig, I know some of my followers follow me for that."
On eyebrow transfers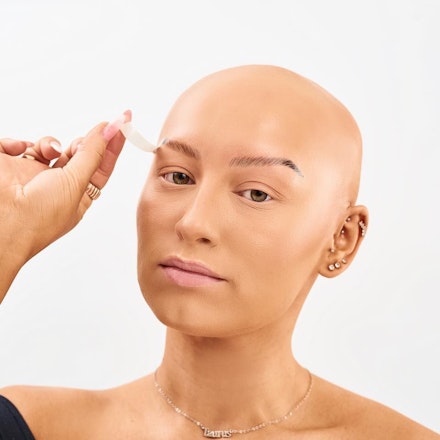 "Eyebrow transfers are such a game-changer for me and my make-up routine because it speeds everything up. Every time I applied them, I found that I was taking a lot of time getting them to how I liked them. There were none out there that were a really nice style or the right colour. I think brow trends are changing all the time.
"Once upon a time we had these thick, slug brows and then we went to thin brows and now we're all about the laminated fluffy brow. There wasn't a brow transfer out of there that gives you a nice fluffy brow but is really snatched as well. That's why I collaborated with Brow HQ and I designed these brows by hair stroke, by hair stroke. It took around two years to get them out, just because we were so particular with exactly how I wanted the brows to look and I wanted something stylish and modern. I wear them every single day, I love them."
On skincare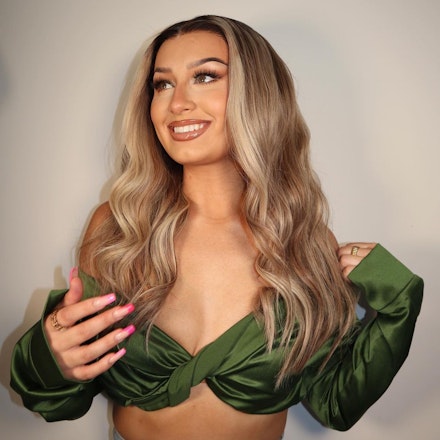 "I love a lot of REN Clean Skincareand Elemis. For body lotions I love Dove, I'm using their Dove DermaSpa Self-Tanning Lotion (£3.50) which helps me maintain my fake tan. For my face, I love using the Elemis Cleansing Balm (£36.80)for removing make-up. I feel like it's the cleansing balm that doesn't clog my skin up and create more problems. I also love the REN Clean Skincare Ultra Comforting Rescue Mask (£32). My skin is so problematic, I feel like it's the only thing that calms it down."
On budget beauty buys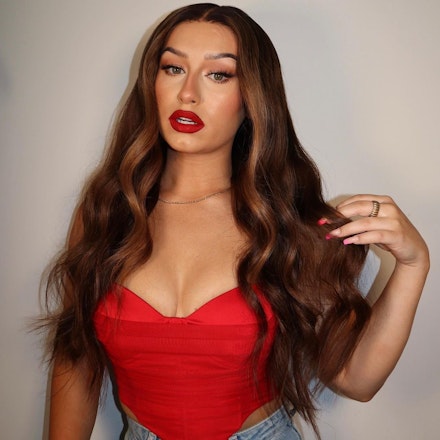 Dani is an actual wizard when it comes to glam make-up, but are there any purse-friendly products she absolutely swears by?
"There are a few things that I always say to people: 'You need to buy this.' My favourite would be a powder puff, the one I use is from Trigwell Cosmetics (£13.95 for two) and they're really cheap. You always see it on my reels. Whenever your setting your powders, use the powder puffs and honestly, it makes your undereye look absolutely flawless. I always tell my friends to buy it, it's so good."
On good advice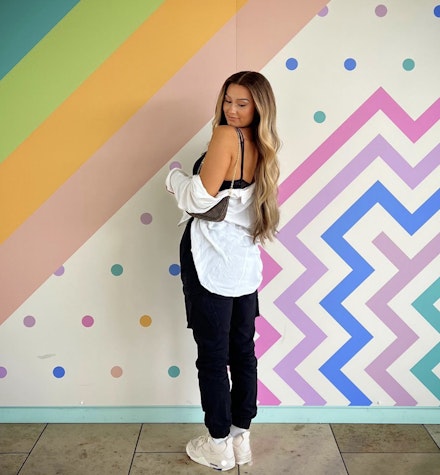 "My boyfriend always gives really good advice when I'm feeling overwhelmed, especially as the world of social media and content creation is really fast-paced. He really helps me to take things step by step. Sometimes it can be a lot and I don't always get nice comments. It's important to remember you can't please everyone and there is always going to be someone that doesn't agree with something that I do, but as long as I'm doing something that I love and if I'm happy, that's all that matters."
Quickfire round:
What show are you currently watching? Love Is Blind.
How do you like your cuppa? I like my tea with milk and one sugar
Go-to loungewear brand? It's got to be Primark, their pyjamas are so good.
Favourite face mask? The REN Clean Skincare Ultra Comforting Rescue Mask (£32).
Go-to takeaway order? You can't beat a Chinese.
Favourite candle? I'm here for anything vanilla.