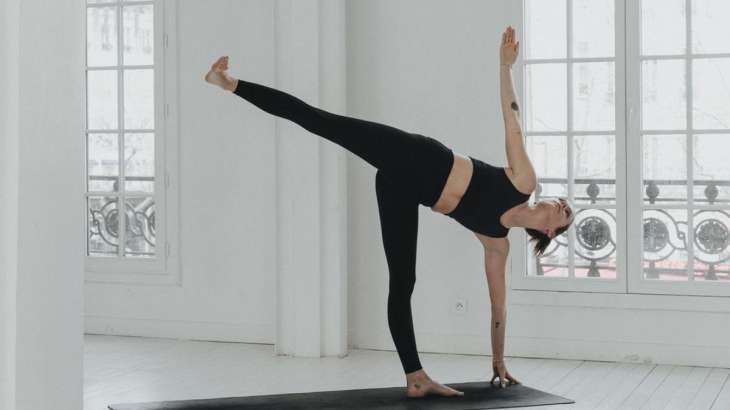 Ardha Chandrasana: Because of Covid pandemic, 9 to 5 job and unhealthy lifestyles, stress and anxiety have become a part of our lives. This has paved the way for several ailments, including body aches, bad posture, neck pain and cervical and spine-related problems. Therefore, it is important to work on our fitness and what's more effective than yoga? Among the many yoga positions, the Ardha Chandrasana or Half-moon is known to have many health benefits.
Ardha Chandrasana as the name says particularly this posture brings serenity, and tranquility to the moon. It brings the shine and hue of light from within. Lunar energy helps you develop empathy, compassion, creativity, and connect with hearts. Talents are the sign of representation of moon subtleties and grace.
Ardha Chandrasana: Method
Stand with Legs apart, Bend in Trikonasana, Breathe in slowly raise your leg up and try to balance on one foot and one arm. Try holding as much as comfortable. Repeat on another side. Focusing your attention in the upward movement of the hand and the alignment, being perpendicular to the ground is so important that leads to stability of the mind which we call "Sthirtha" in Yoga.
If you follow Ardha Chandrasana every day, it can enhance blood flow to the brain because while performing this posture our heads move downward against gravity, which in turn helps in the blood flow. Also, Ardha Chandrasana is known to open your chest muscles when you bend sideways. As a result, it reduces your risk of getting cardiac arrest, high cholesterol, and stroke.
Ardha Chandrasana: Benefits
Strengthening core muscles 
Improves Body Balance
Strengthens your legs
Enhances flexibility of the spine
Good body stretch
Cellular regeneration
Improve concentration, focus, determination
Eases constipation
Improves cardiovascular health
ALSO READ: Garlic lowers blood pressure BUT keep these things in mind before consuming it